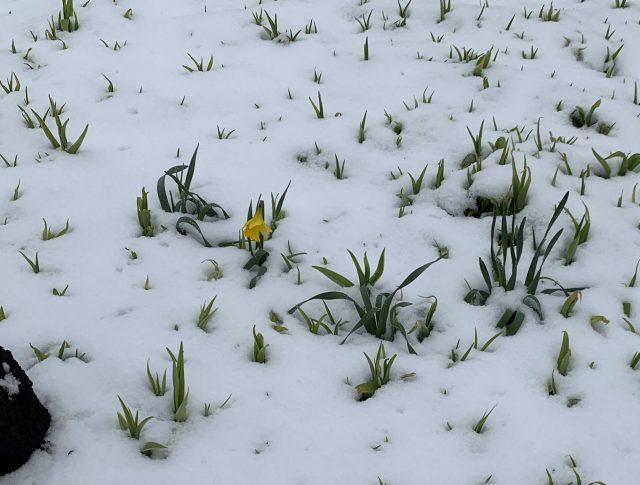 This past week we saw sunshine and temps near 60 degrees here in Central NY. While life in lockdown is challenging and is bringing up a lot of fear in many people, it is helpful to remember that life is continuing on, uninterrupted on our planet. Spring is springing. The song birds are returning in great numbers and birdsong fills the air. The peepers have started their evening serenade. The trees are budding. And the ground is gently opening as fresh shoots peek out of the ground, waking from their winter slumber. I was so excited this week to see the first daffodil bloom in our garden. It made me think of how excited our elderly horses feel when they see the grass turning green and they know they've made it through another winter and become renewed again with the spring and the fresh grass. And, it makes me remember the ones who left us and found a different kind of spring off of this earth, although we miss them. That first daffodil brought so many emotions up in me.
Today, that pleasant taste of spring was abruptly disrupted by one more shot of cold air, wind, and snow. As I got our mail this afternoon, I was moved again by a daffodil. This one, which I captured in this photo, was one lone, brave, pioneering daffodil who bloomed way before the rest of the daffodils around her, still waiting to make their debut. This one came early. I saw her drooped head as she struggled to remain upright in the snow and wind. Alone. And I thought how stunningly profound her message is for all of us right now.
Many of us are feeling just like this lone daffodil. Cut off from the lives that we became used to as our normal routine. Segregated away from friends and family and sometimes feeling alone in a cold and desolate world. Yet, this one daffodil is actually the bravest and brightest of all. She defied all odds and brought herself out of her slumber for all the world to see. She gives us hope of a new day. She brings us a reminder that spring really is here in spite of the snow. She teaches us that each of us has a beauty and light to shine and each one of us is unique with that light. She shows us that now, more than ever, it is time to shine our lights and let our beauty blossom. This is our time.
So, if you're feeling like you're alone and things just seem to be hopeless, remember this daffodil who came to remind us all that now is the time to dig deep within ourselves for that inner strength that fills our core and shines bright despite the wind and cold and snow.
As nature reminds us with the seasons, there are times for resting and going deep within. There are times for growth and renewal. And there are times for planting seeds to bring life to others who need sustenance that we can provide. We are all in this together. We need one another, now more than ever. Each of us, in our own way, is like this daffodil. And each of us will bloom exactly when we are supposed to and we will be the hope for another who needs encouragement to bloom as well. Shine your light and you will light the way for others who are lost in their own darkness.
Never, ever, give up on hope – no matter how much the wind blows, or how long the snow returns. Spring is always near.
Dawn