Our featured animal this week is Dakota!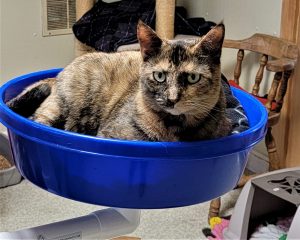 Dakota is about 11 years old and came to the farm in 2020 after being found as a stray when she showed up in a humane trap that someone set while looking for their own missing cat. Attempts were made to find her owner with no success. She was very thin and looked like she had been out on the streets for quite some time and was clearly looking for help. Dakota is very friendly and outgoing and is also the dominant cat in her room. She is very playful and absolutely adores having her belly rubbed. She is not big on other cats but tolerates them. She also likes to sleep on her back a lot and has the humorous tendency to pick objects or beds to lie on that are too small for her.
Dakota currently does not have any sponsors and would love one (or more than one)!