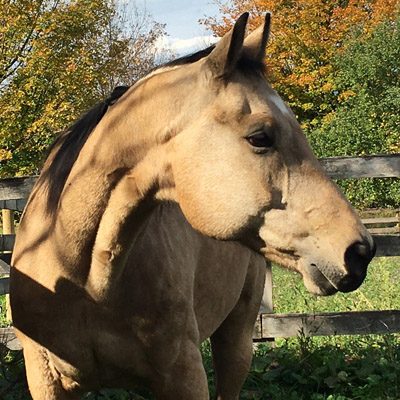 Linda & Ed Fox - November 2021 - December 2023
Alex R. - October 2022 - September 2023
Myrna Fabrizio - January 2023 - December 2023
---
Ziek is a Quarter Horse estimated to have been born in 1999 and came to the farm in summer of 2016 with his donkey companion Noah. He has quite a history of having been a camp horse in a summer camp program for several years. He came from somewhere out west originally before he ended up here in New York State. Ziek is now retired with us. He has become great friends with his pasture mate Brandy and seems to be enjoying being a part of a larger herd again.
"I am not that complex a guy. I kind of like things easy and simple. When things get too complicated around me, well….. then so do I. I'm still trying to figure things out. But life seems good."
To Sponsor Ziek: Sponsorships are $100 for one year. Click the Sponsor Me button above and be sure to write in "Ziek Sponsor" in the Comments section on the form. You can go to our Sponsor Page for more information.