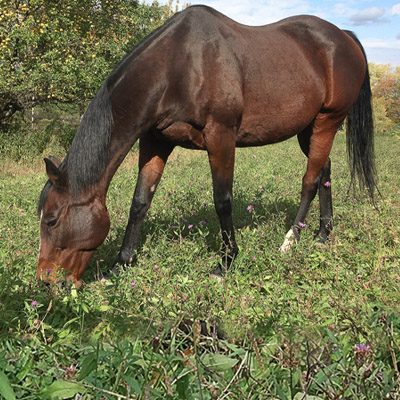 Alex R. - May 2023 - April 2024
---
Bayberry is a grade, possibly Thoroughbred mix mare born around 1997. Bayberry came to the farm in 2017 from a neglect case with three other horses who all were in very bad shape. Because of the neglect, Bayberry has a muscle disease and a periodic cardiac issue that affect her greatly. She will most likely be on medication for the rest of her life. Bayberry is quite a character and is often not very aware of where her body is at any given moment. We have never seen a horse quite as agile at throwing her legs around every which-way when she gets excited. She is also very sweet. One story about Bayberry that we will never forget happened shortly after her arrival to our farm. She and the other horses had been starving and had witnessed the death of scores of animals who starved to death at the farm where they came from. A few days after her arrival, she was in her stall and looking out watching all the goings on in our barn. Just then, our tractor drove in pulling a wagon load of hay to be unloaded. Bayberry was at first just watching the tractor but when she saw the wagon of hay her eyes got very wide and she began jumping in circles and whinnying for joy. She couldn't believe the food that was heading her way! We all laughed at how animated she got but then grew silent realizing and understanding the deeper meaning of why she was so joyful. A common everyday occurrence in our barn was a miracle to Bayberry.
"You know what? Life can be very short. I have seen that for myself. So I figure, if I am joyful, I am going to show it. There is so much sadness in the world sometimes. I think we need to make the most of joy and just be joyful anytime we can. I am so grateful and joyful to be here. It is the first solid place I have ever landed in my life."
To Sponsor Bayberry: Sponsorships are $100 for one year. Click the Sponsor Me button above and be sure to write in "Bayberry Sponsor" in the Comments section on the form. You can go to our Sponsor Page for more information.