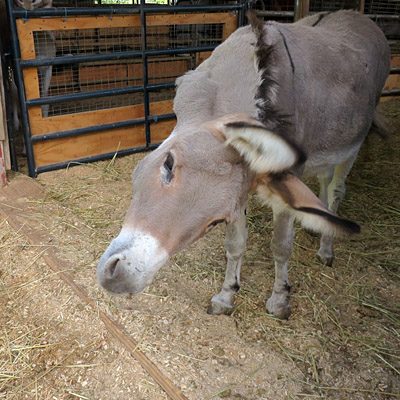 Michelle Doran - July 2022 - June 2023
Alex R. - September 2022 - August 2023
Lori Tumminelli - December 2022 - November 2023
For Don - January 2023 - December 2023
---
Mary Beth arrived at our farm in spring of 2015. She traveled a very long way to get to us and to find her forever home. Mary Beth is a mini-donkey born in 2011 in North Carolina. Sadly, just moments after her birth, her sire stepped on her neck, badly injuring her. The people who had her were unable to acquire the medical help needed to try to fix her neck and as a result, her neck was permanently damaged. Mary Beth has limited motion and mobility with her neck. She carries her head down low with a slight tilt. But this little girl knew that life was precious to her and she had no intention of quitting.
We were contacted by our friends at Pets with Disabilities in Maryland after they were contacted about Mary Beth to see if anyone could give her a permanent home when her people could no longer keep her. We just happened to have an opening for a small pony or donkey and when we saw her photo and heard her story, we knew she was supposed to be here with us.
Mary Beth is a beautiful soul. She is soft and gentle and filled with compassion and a zest for life that is amazing. No, she is not "normal", but Mary Beth has figured out how to live life to the best of her abilities and she is taking to joining the ranks of many of our other equine teachers here at the farm. She settled in immediately, making friends with 2 goats who hang out with her during the day and the two ponies who live right beside her.
Her bray bellows out and fills the barn with her special music. Mary Beth's body may have problems, but the light of her soul shines through her eyes and through her special donkey song. We welcome Mary Beth home and strive to do all we can to see if we can improve some of her mobility and make sure she is content and happy. And we also are excited to see what all she has to teach us as well.
---
"I am happy to know the safety of friends and the farm I now call my home. I am learning about many things as my world just expanded a lot. But I am ready now to see all there is to see and most importantly to be all that I can be. And when you hear me sing, you will know that it is from my heart, because my heart is filled with joy to be alive. And that is worthy of not just a song but a symphony."
To Sponsor Mary Beth: Sponsorships are $100 for one year. Click the Sponsor Me button above and be sure to write in "Mary Beth Sponsor" in the Comments section on the form. You can go to our Sponsor Page for more information.