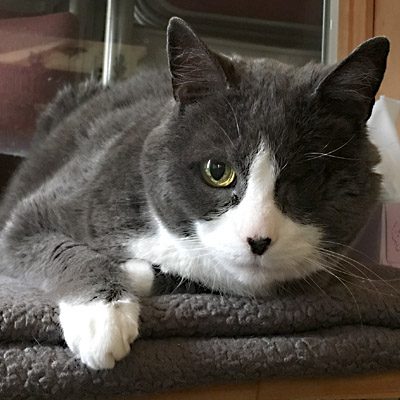 The Glue that Holds the Whole Barn Together…. Our Barn Cat
Izzy and her litter mate sister Bella came as kittens after they were rescued from another barn where they were going to be killed at the age of 8 weeks. Izzy had a seriously injured and infected eye when she arrived which later had to be removed. Izzy is a super friendly cat and she knows her way around the horses, ducks, chickens, geese, and goats and sheep. She watches over the whole show and greets all the humans who come to visit as well. Sadly in October 2017, we lost Bella to kidney disease. Izzy however continues to patrol the barn and keep everyone in line.
To Sponsor Izzy: Sponsorships are $100 for one year. Click the Sponsor Me button above and be sure to write in "Izzy Sponsor" in the Comments section on the form. You can go to our Sponsor Page for more information.