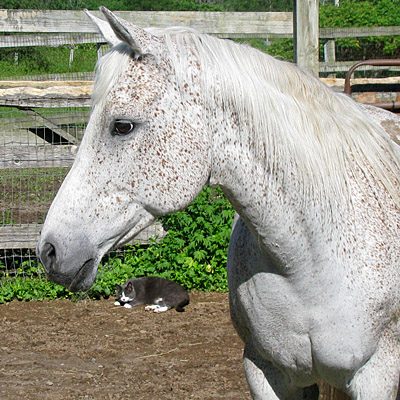 John and Georgann Syphard - January 2020 - December 2020
---
Ember is a Thoroughbred mare born in 1990 here on the farm before we became SFC. Her mother, Iron Isle (Ginny), was free leased to us for two years and two foals. Ember is somewhat shy but a very friendly mare. She was originally bred to race but we did not want to put her into that environment. Ember is very low key but enjoys spending time with all of the other Thoroughbreds running in the pasture.
Ember has spent her life with her herd just being a horse. That wasn't how her life was supposed to go but she let's us know she is very happy and grateful it has gone the way it has. She was fortunate to grow up here on the farm with many of the original elder Thoroughbreds as her friends, teachers, and mentors. She has lived a life that few horses actually get to live. By human standards, she was "useless." However, by horse standards, she got to be a real horse. Ember holds a space at the farm that is hard to really define or describe. The horses hold a space, an energy, that literally grounds the farm and keeps us centered on what we are here to do. Ember is a big part of that energy. She has been with us since we became Spring Farm CARES and is actually one of the founding horses. Because of those founding horses, many other horses (and other species of animals) have been helped. Ember is a solid presence and daily reminder of why we get up each morning and do the work that we do. And all the while she just quietly eats her hay, grazes in the pasture with her buddies, and relaxes in the barn at night. It may look like she isn't "doing" anything. But just by being Ember, she has done a lot.
Ember is healthy but has a condition called Heaves which is basically like asthma. Hers are seasonal allergy based and she is on medications to help keep her breathing clear. She has been prone to getting pneumonia though because of this so we keep a close eye on her and try to keep her environment as clear from dust as we can in a barn.
---
"I remember my mother who told me all about her life as a race horse. She told me she hoped I would do something different. I've always hoped that she knows I did do something different and that I am safe. I hoped to see her again one day. I liked her. They say I look just like her now. I'm glad to carry on her legacy. She felt that no one really knew her. I hope that changed for her."
To Sponsor Ember: Sponsorships are $100 for one year. Click the Sponsor Me button above and be sure to write in "Ember Sponsor" in the Comments section on the form. You can go to our Sponsor Page for more information.