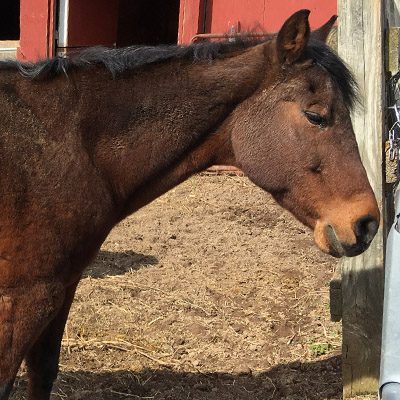 Pat and Dan Nolan - December 2017 - November 2020
Kathryn Harding - May 2017 - April 2023
---
Henry is estimated to have been born in 1995 and came to the farm in Fall of 2017. Henry comes to us from an equine rescue in Vermont after it was determined he really needed to find a sanctuary to care for his needs as he is aging. Henry doesn't have very many teeth left for chewing hay so he needs to be on a special diet of soaked feed. After our blind pony Molly lost her seeing eye horse friend Annie, we had been keeping an eye out for an appropriate companion for her. Henry was also looking for a more permanent friend as life at a rescue was hard for him with horses continuously moving in and out and he really wanted to bond with someone. Henry is a gentleman and a very kind horse. He loves people and has settled in very nicely into his new home.
---
"I have moved around a lot in this life and have longed for a place I could say I belong. My body is a bit more tired now and I don't have much to give in terms of work. But my heart is full of friendship and I have a lot to give and a lot of life still left to explore. I feel like I need to rest a bit but then I intend to find my true work here with my other horse friends."
To Sponsor Henry: Sponsorships are $100 for one year. Click the Sponsor Me button above and be sure to write in "Henry Sponsor" in the Comments section on the form. You can go to our Sponsor Page for more information.