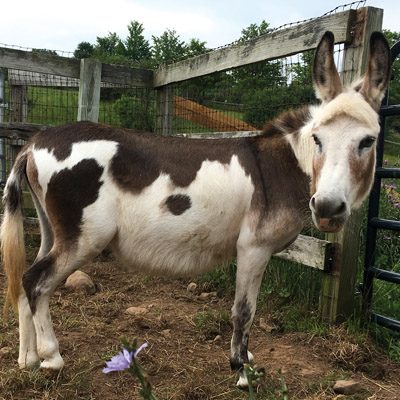 Kathryn Harding - May 2018 - April 2023
Bonnie Borowiec - February 2023 - January 2024
---
Chico is a mini-donkey in-tact male (soon to be gelded) estimated to have been born in 2013. Chico arrived at the farm in the spring of 2018 with six other mini-donkeys all rescued from a severe neglect situation. All of them were emaciated and had hooves that were extremely overgrown. Chico is a very quiet and kind guy (at least so far) who has endured a lot of neglect and physical challenges. We don't really know the real Chico yet as he is so run down that he clearly does not feel at his best. Chico's feet were among the worst of the group. His feet are extremely deformed. Radiographs reveal that the bones inside his feet actually look surprisingly good so we are hopeful that he may be able to be sound once again one day. It will take a long time to get them back to a more normal shape but it is a process we have already begun. As soon as Chico is healthy enough, he will be gelded and that way he will once again be able to rejoin his herd of donkey friends.
---
"People here have told me that we are safe now and I think I believe them. The other donkeys who were already here told me that there is nothing to worry about and that it is ok. They have some wise donkeys here I can tell – so I believe them. I look forward to feeling better again. Where I came from made me sad."
To Sponsor Chico: Sponsorships are $100 for one year. Click the Sponsor Me button above and be sure to write in "Chico Sponsor" in the Comments section on the form. You can go to our Sponsor Page for more information.