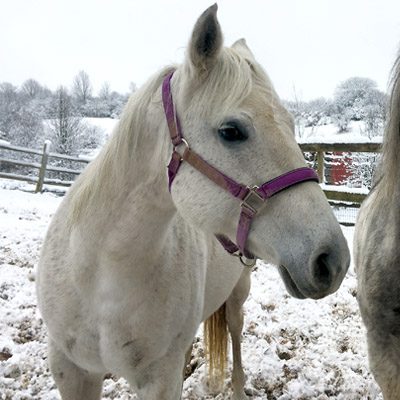 John and Georgann Syphard - June 2020 - May 2024
---
Cami is a grade mare estimated to have been born in 2005. Cami came to the farm in 2017 after being rescued from an extreme neglect situation with three other horses. Of the four horses, Cami was one of the most emotionally shut down of the group. Although her physical health has recovered, the emotional scars have been more obvious with her. One year later, we are starting to see more of Cami's personality as she learns to trust us more and she realizes that she is now in her forever home. She has had a very rough go of things and it is good to see Cami just explore the world of being a horse with nothing being asked of her other than to heal. We look forward to learning even more about Cami as we watch her heal and unfold.
---
"I do a lot of watching things in life. You can learn a lot by watching actually. That is far easier than pushing through something when you don't know what you are doing. I like to choose my steps wisely. I have other horse friends who kind of just explode through life haphazardly. I think I like to just think things through a bit first. That is how I am."
To Sponsor Cammy: Sponsorships are $100 for one year. Click the Sponsor Me button above and be sure to write in "Cammy Sponsor" in the Comments section on the form. You can go to our Sponsor Page for more information.